Efteruddannelsen i tandbehandling var i 2009 den anden fagveterinærsygeplejerske-uddannelse, der blev udbudt i Danmark. Den henvender sig til veterinærsygeplejersker i klinisk praksis, der har en generel interesse i tandbehandling og ønsker at udvide sine kompetencer på området.
Hvem udbyder efteruddannelsen?
Efteruddannelsen i tandbehandling udbydes i samarbejde mellem Veterinærsygeplejerskernes Fagforening, Den Danske Dyrlægeforening og Tanddyreklinikken.
Formål og opbygning af uddannelsen
Formålet er at give deltagerne teoretisk og praktisk basisviden om anatomi, sygdomsudvikling, forebyggelse og praktisk behandling af sygdomme i mundhulen hos dyr.
Praktisk del: Deltagerne forventes at opbygge en praktisk kunnen i tandrensning, polering, periodontal behandling, instrumentkendskab herunder brug og vedligehold samt profylakse og klientvejledning. Desuden lærer deltagerne at optage og vurdere tandrøntgenbilleder. Teoretisk del: Deltagerne vil få en bred forståelse for sygdomsudvikling i mundhulen og blive i stand til at erkende lidelser, så den korrekte behandling iværksættes i tide. Den teoretiske del omfatter embryologi, anatomi, patologi, periodontologi og traumebehandling.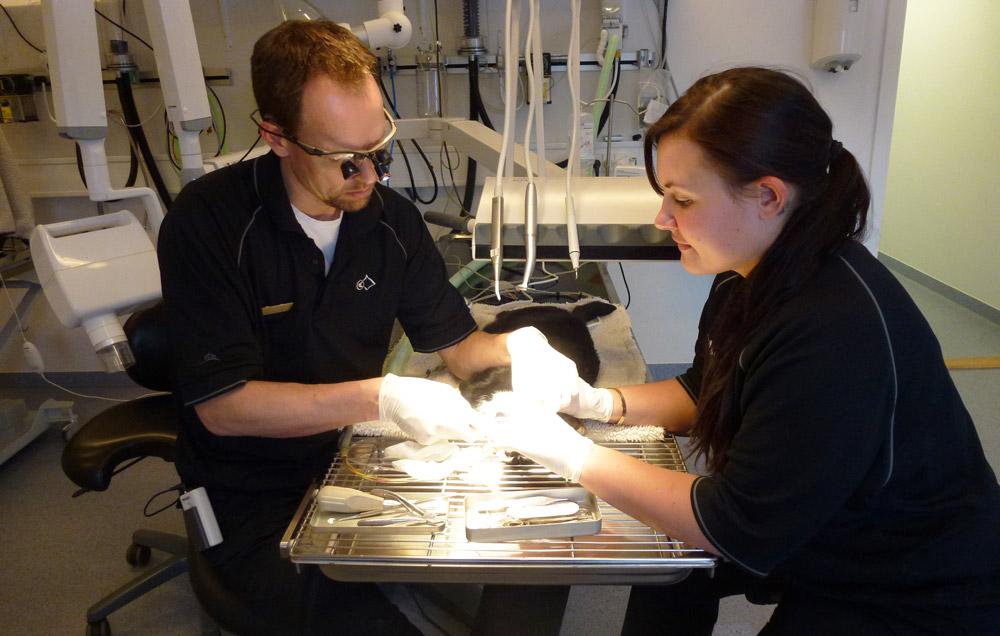 Udbytte
Deltagerne får mulighed for at gennemarbejde implementering af tandbehandling på deres egen klinik, med alt fra klientbrochurer, flow, behandlingsprotokoller, journalisering og profylakse.
En færdiguddannet fagveterinærsygeplejerske i tandbehandling vil som en aktiv deltager i klinikkens tandteam være uundværlig i opbygningen/optimeringen af tandafdelingen i enhver praksis.
Metode
Uddannelsen er opbygget af 5 moduler á 2-3 dages varighed samt en afsluttende eksamen – fordelt over ca 1 år.
Der må påregnes en del hjemmearbejde i forbindelse med opgaver imellem de forskellige moduler. Klinikkens udstyr og journaler skal anvendes i forbindelse med flere af opgaverne. Alle moduler samt eksamen foregår på Tanddyreklinikken, Måløv Værkstedsby 99, 2760 Måløv.
Eksamen
Den afsluttende eksamen er mundtlig og består af et forsvar af hovedopgaven, samt fremlæggelse af et trukket spørgsmål. Eksamen foregår med eksaminator og censor og bedømmes som bestået eller ikke bestået. Efter gennemført uddannelse og eksamen, kan kursisterne opnå godkendelse som Fagveterinærsygeplejerske i tandbehandling. Godkendelsen udstedes af Veterinærsygeplejerskernes Fagforening, Den Danske Dyrlægeforening og Tanddyreklinikken.
Sprog
Undervisningen foregår på dansk. Lærebøger etc. er på både dansk og engelsk.
Adgangskrav
For at tage efteruddannelsen som Fagveterinærsygeplejerske i Tandbehandling, skal man være uddannet veterinærsygeplejerske og have autorisation fra Fødevarestyrelsen. Derudover skal man have 1 års anciennitet.
Det forudsættes, at klinikkerne har, eller planlægger at anskaffe, et minimum af udstyr til tandbehandling: Boremaskine/polerer, ultralydsrenser, tandrøntgen samt instrumenter til tandrensning, ekstraktioner og periodontalbehandling.
Der må påregnes en del hjemmearbejde i forbindelse med opgaverne imellem de enkelte moduler.
Pris
Prisen på efteruddannelse i tandbehandling er DKK 44.900,00 ekskl. moms og inkluderer alle undervisningsmaterialer, lærebog samt frokostforplejning i forbindelse med alle moduler.
Datoer:
Modul 1:  Den 7. & 8. september 2022
Modul 2:  Den 2., 3. & 4. november 2022
Modul 3:  Den 12. & 13. januar 2023
Modul 4:  Den 6. & 7. marts 2023
Modul 5:  Den 3. & 4. maj 2023
Eksamen:  Den 8. & 9. juni 2023
Yderligere oplysninger
Hvis du har spørgsmål vedr. efteruddannelsen i tandbehandling, er du altid velkommen til at kontakte os jf. ovenstående.
Spørgsmål vedr. uddannelsens indhold bedes rettet til: Jens Ruhnau, tlf.: 4466 2040 eller på e-mail: info@tanddyreklinikken.dk